S.H.S. – You witnessed the explosion of skateboarding in the 1970s firsthand. You also witnessed its demise a few years later. Did you see it coming?

PINE – Somewhat. I saw my board sales going down, salaries diminishing, and companies starting to fold. I also remember that after high school, the money wasn't coming in like it used to, so I started to look for a job.

Aside from the closing of the skateparks, who or what do you blame?

I don't blame anybody or anything. It seemed as though it was the end of the 10-year cycle that skateboarding has historically gone through. However, somebody asked me that question before in the presence of someone else and that person said D. David killed it. : )

Do you think skateboarding will ever get past the whole "boom and bust" thing, and just *BE*.

In my opinion, I don't foresee anything changing. As long as there is media covering all of the events, money to be made, and people continuing to pump the money back into the sport, I don't think so. What we lacked in the seventies was the media coverage. There was quite a bit of money at one time.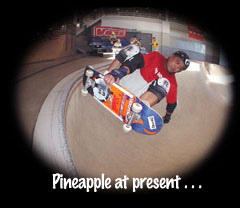 What kind of terrain do you ride these days?
Pools and whatever concrete parks I can get to and skate. I am most comfortable with concrete.
When I got back into it this past May, I started skating at this concrete park in Ocean Beach. After about 3 months, I wanted to skate some vert. So – at that point, I began driving up to Ontario, which is about 1-1/2 hours north of San Diego, to skate the pool there. After skating there for a few months, Salba was telling me that a bunch of the older guys from our era were skating the combi at the O.C. Van's Park. Ever since then, it's been the combi in O.C. and the park in Ocean Beach with my son. There are some people who are supposed to hook me up with some pools in Huntington. [ Hint... : ) ]
What's the most serious skate-related injury you have had ever/recently?
Sprained wrists and water in the knees. The sprained wrists were from the pipe at the old Pipeline Skatepark in Upland. And the water in the knees was just from the abuse.
When you were 18, did you see yourself skating at age 37? Now that you are 37, can you still see yourself skating in your fifties?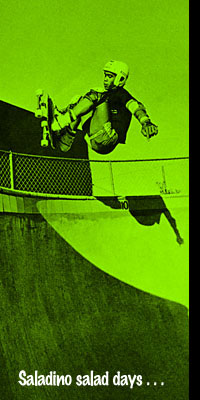 Skating at 37? Not at all. Skating at 50? Sure !!! The skaters from my era are all well over 35. The guys skating again such as myself, and the ones who never stopped such as Salba, T.A., Duane Peters, and Steve Olson, are all skating hard. Everybody is absolutely shredding.
I recently skated with Mike Folmer. He's been skating quite a bit lately and ripping also. He's told me that he has entered some contests in some sort of "Master's" division. I heard that Blackhart and Peter "Kiwi" Gifford have been tearing up Milpitas. I recently saw some pictures of Strople. Tom "Wally" Inouye emailed me and said that he has been skating. Dave Andrecht is skating again. I have also been trying to get Bill Ruff out there. No luck there. : )
So skating at 50? Yep !!! I tell you that getting back on a board after 15+ years has been an achievement in my life. It's also been an opportunity to enjoy something that was a big part of my life growing up. So I would say that as long as there is concrete and pools, and I can stay healthy, I'll keep skating.
Besides the closing of the parks, when I look back at why I stopped skating, it seemed as though it got to the point where it felt like a job. I wasn't having fun anymore. So now, I have nothing to prove to anyone as a skater. The only thing I am out to do is have fun and skate with all of my friends and my son.
Here's something for you. Check this out. This past August, I went up to Seattle and skated with T.A., Duane Peters, Salba, Steve Olson and Brian Brannon from JFA up at the Experience Music Project. We did this old school demo for this skate rock event. It was pretty cool hanging out and skating with these guys. I hadn't seen them in over 15 years.
Tell us a little about your son Shey, and how he's got you back into the sport?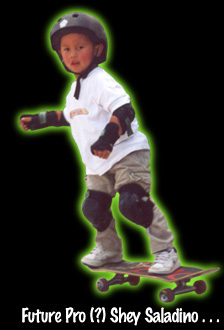 He just turned 4 years old in September and has been skating for about 2 years. My wife and I actually had him on a board at about 18 months. He began riding the board by himself at about 2 years old. He is super talented and real coordinated. We also had him on a snowboard a couple seasons ago. And then recently I bought him a drum set. The boy's got rhythm.
So back to skating and how he's got me back into the sport. The main reason is that I saw an opportunity for the two of us to hang out and enjoy doing something together. However, there was a period when he was skating and I wasn't. During that time, he kept asking me to skate with him. After awhile, I gave in.
But how did it lead up to this? Well, we used to take him to skate the little kiddy bowls outside of the big park in Ocean Beach. Actually, we took him there alot. We would let him skate for hours at a time. After he would get done, I would go over and watch everybody skate in the big park. I just kept getting this urge to go out and skate. Then finally, one day, I said fuck it Š I'm going skating. It's been skating 2-3 times a week.
At the same time, my brother-in-law kept trying to get me to go and skate with him. Shey and his persistence finally got me out there.
My boy's amazing. He's doing bigger ollies than me !!! Dropping in on 3-4 mini ramps and concrete bowls. Kickturns on transition. Ouch !!!
If Shey wants to be a pro skater, will you encourage him?
Yep !!! Whatever Shey wants to do, Shey can do and I'll support him.
In the 1970s, the industry was run primarily by people who had never skated. Today, most companies are run by skaters and ex-skaters. Do you notice a difference in the way products are designed?
As far as what I have seen, I would have to say yes. I have had the opportunity to ride Foundation products and Tod Swank seems to be pretty active in the design of his product line.
Do the pros and sponsored ams get treated any better? Or are things exactly like they used to be. In other words, now that the inmates are running the asylum, what has changed? Just the names? Or are things different?
Again, from what I have seen, I would say they are different and for the better. That's not to say that we weren't treated good, we were. Keep in mind that in the 70's, the people running most of the companies came from the surf industry. However, with ex-skaters running the show, they seem to understand what their skaters want and how they should be treated because they are ex-skaters.
I also see that they are all pretty cool about taking care of old school skaters such as myself. After about a month back on the board, I called a few people just to see if I could get some stuff and there were no problems. Everybody was pretty cool about hooking me up. I called Fausto from Independent Trucks, who was one of my old sponsors. They took care of me. I hooked up with Tod Swank. He has been giving me and my son all of our boards and wheels. Dale Smith hooked me up with his "Scab" gear. Dave Andrecht hooked me up with shoes. Everybody's been pretty cool. Thanks all!!! (Gotta throw in the plug.)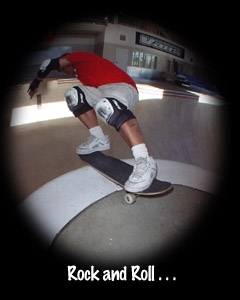 What was your favorite skateboard, and why?
My last model with G&S, which was the "Street Cruiser". This had a silkscreen picture of my '64 Chevy Impala lowrider. It actually sold pretty well. But at one point, the lowrider had to come off of the bottom because some places wouldn't sell it due to it portraying some sort of racism. Yeah right. Never could figure that one out. They had no clue.
That's seems to be one of the differences today. The skaters seemed to get to do whatever they want to in terms of graphics and designs. I didn't have a say in the matter. It was like; the graphics got to come off, if you want it to sell. And then the "Pine Design" before that was good. Check it out. It was 30-1/2 x 10-3/4 wide. I rode that with Indy 215's.
During late 70s and early 80s the skateboard companies seemed to experiment with materials and design — foam construction, routing, beams, etc. Boards today have a Popsicle stick "sameness". What do you think of the "new school" skate gear?
I had a hard time at first adjusting to them. However, after awhile I got used to them and they seemed to function pretty well. I actually have two boards. The board that I ride in the pool is one of Foundation's old school/pool riding boards. It has more of a squaretail than you would normally see. It's 32-3/4 by about 9" wide, with a 15-1/2" wheelbase. The other board I have is for the smaller concrete parks. It's about 8-1/2" wide with a 14" wheelbase. Both have Independent trucks and Pig 60-mm wheels for the small parks and these new 65-mm Pig wheels for the pools.