I recently was fortunate to have the opportunity to purcahse a great piece of 80s skateboard art. Santa Cruz Skateboards had a great coral of pro skaters during the late 80s, and an art department that rivaled all others. This art captures some of the best of both.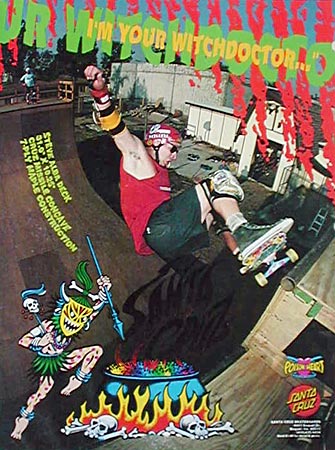 Steve Alba was one of the older pros with Santa Cruz at the time. Most of the other pros were barely out of diapers when Salba was winning his first contests. Steve's first pro model with Santa Cruz had come out almost a decade earlier. 10 years later, Salba was still a master of vert.
Jim Phillips was art director at Santa Cruz from the mid 70s until the early 90s. Jim started doing art for SC in the days of Proflex boards and Road Rider Wheels. Many of his designs have become ingrained in the old school conciousness — the Road Rider and OJs logos from the 70s, Slimeballs, the "Screaming Hand", and Rob Roskopp "Target" series in the 80s. There are many more, but that's another story.
This Witchdoctor model came out the same year as the Voodoo model. They both share similarities in style and content. The tribal witchdoctor characters that flank the dancing woman on the Salba Voodoo model and also appear on the top of the Tiger or Witchdoctor model. This art was featured in the ad that introduced this model.